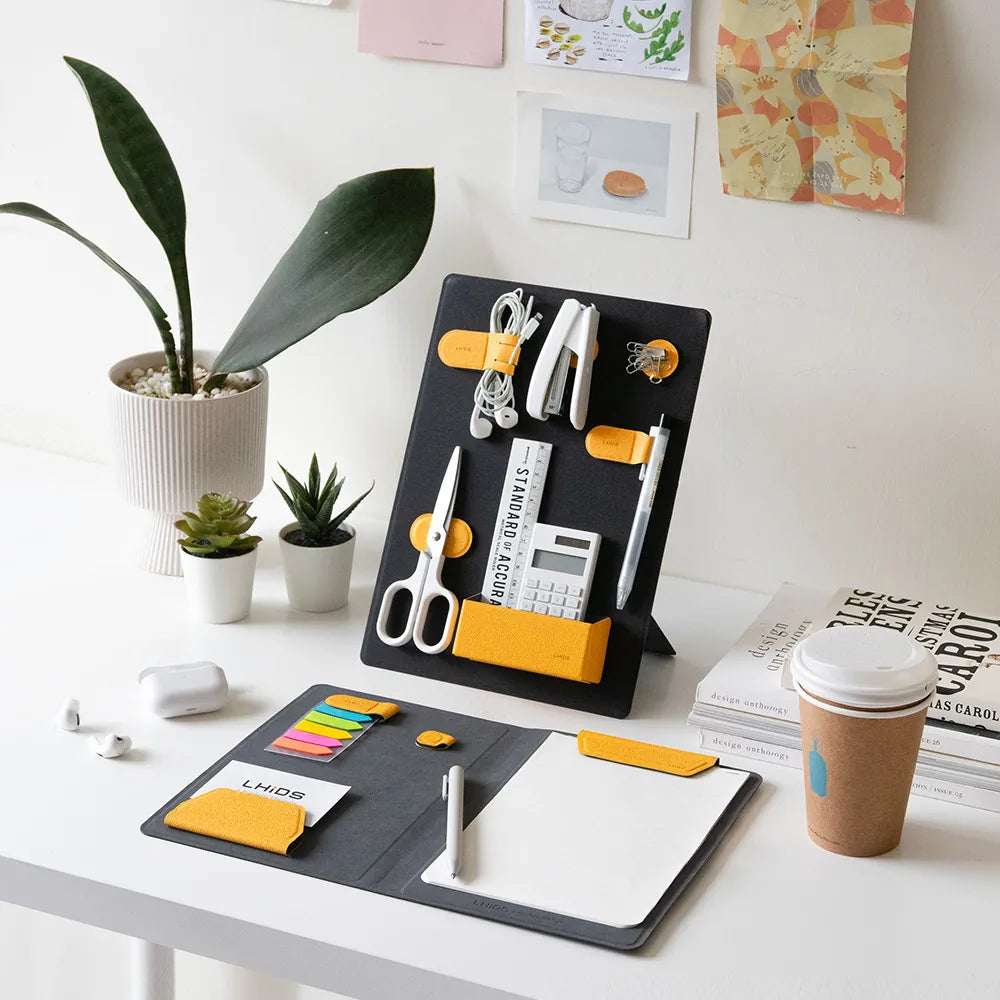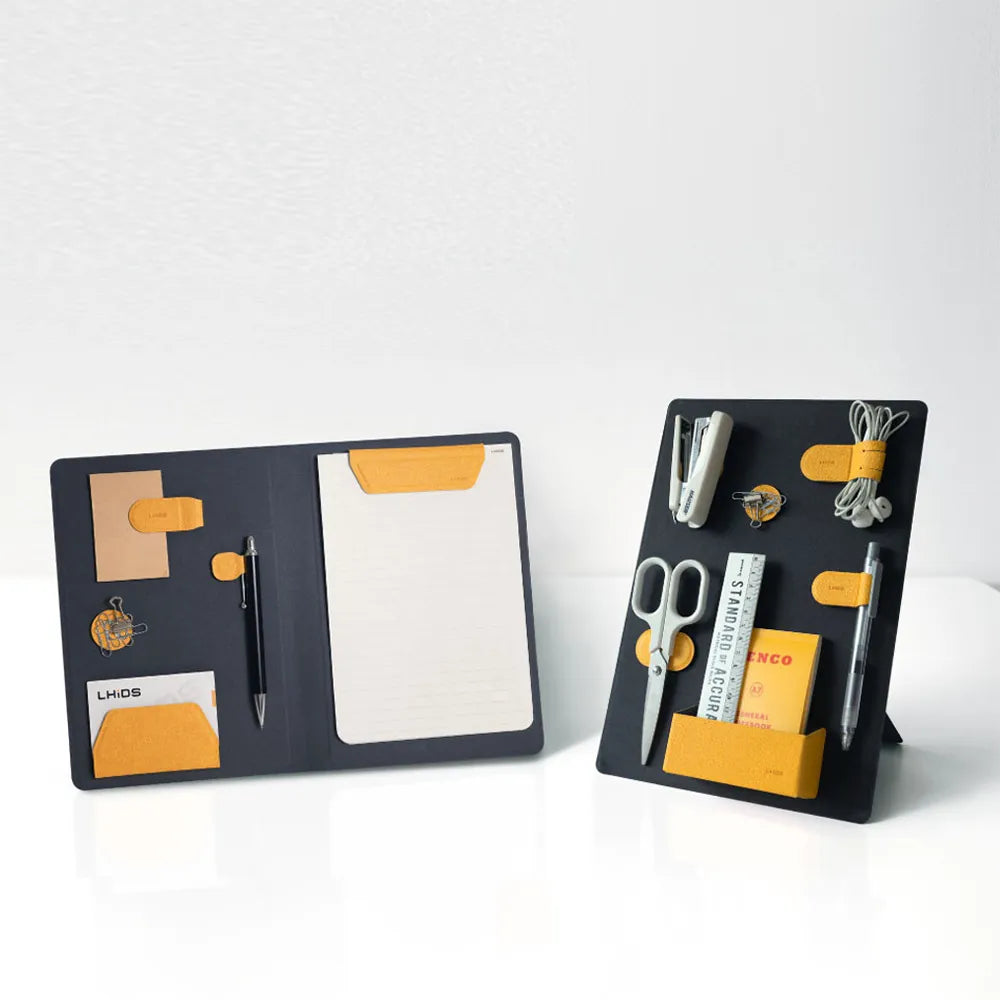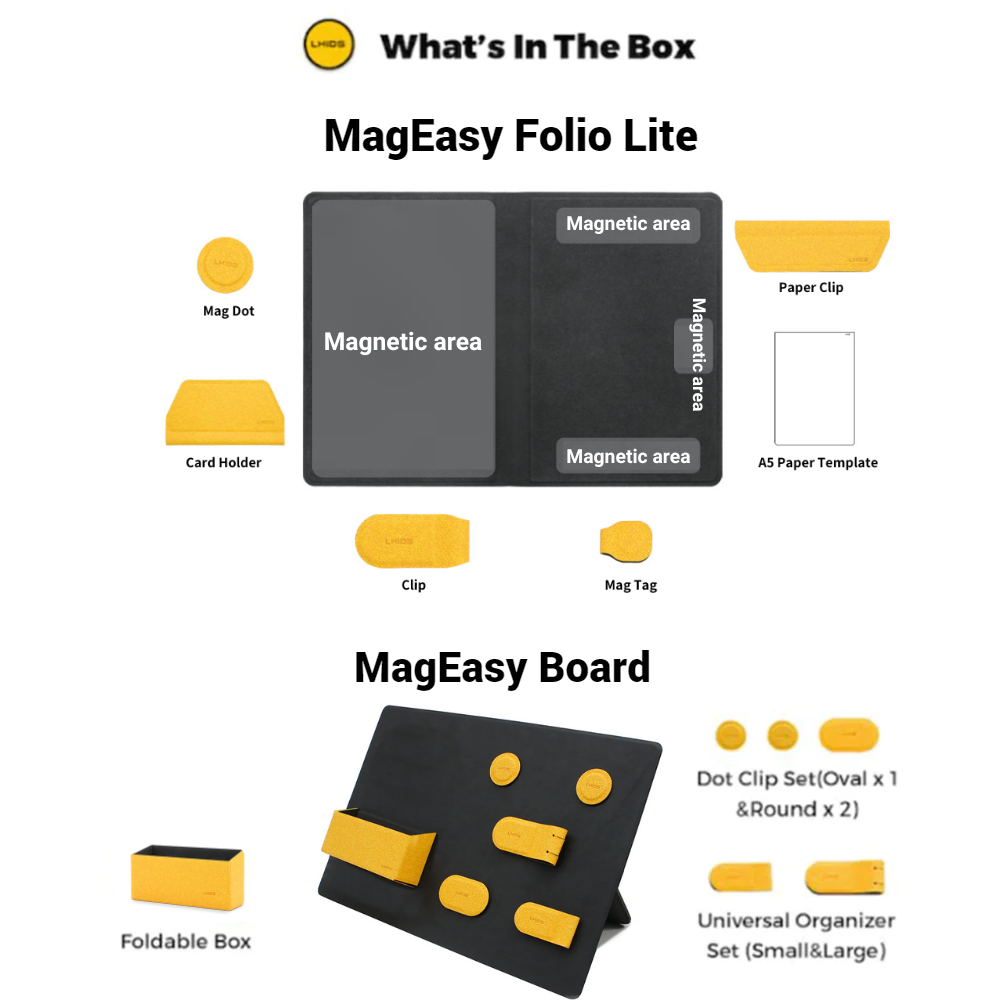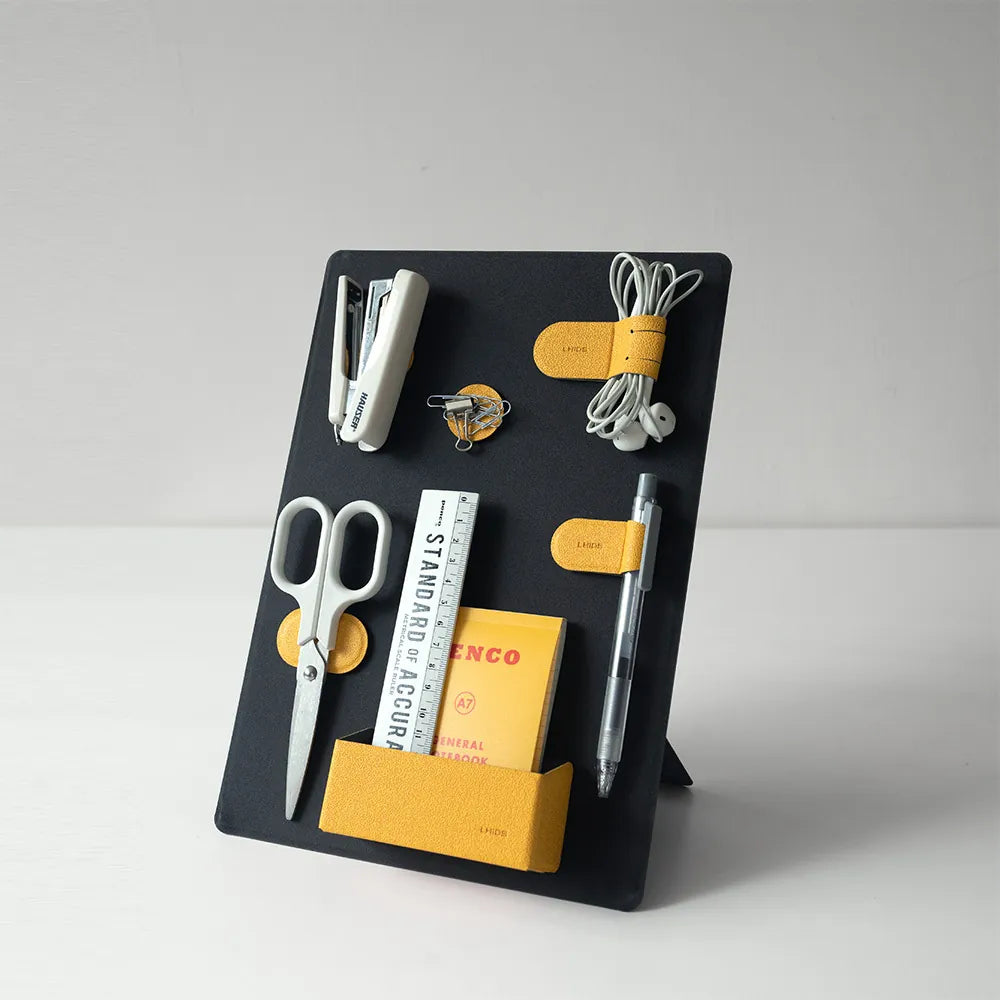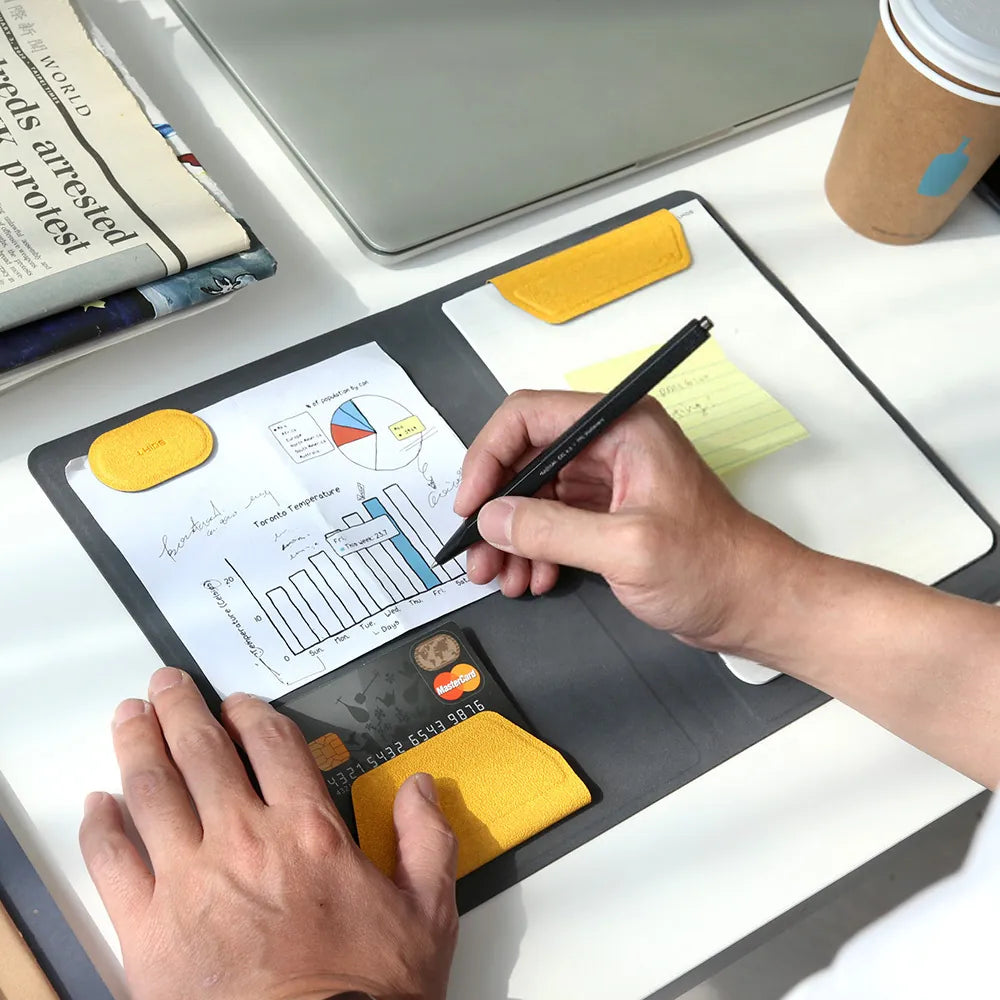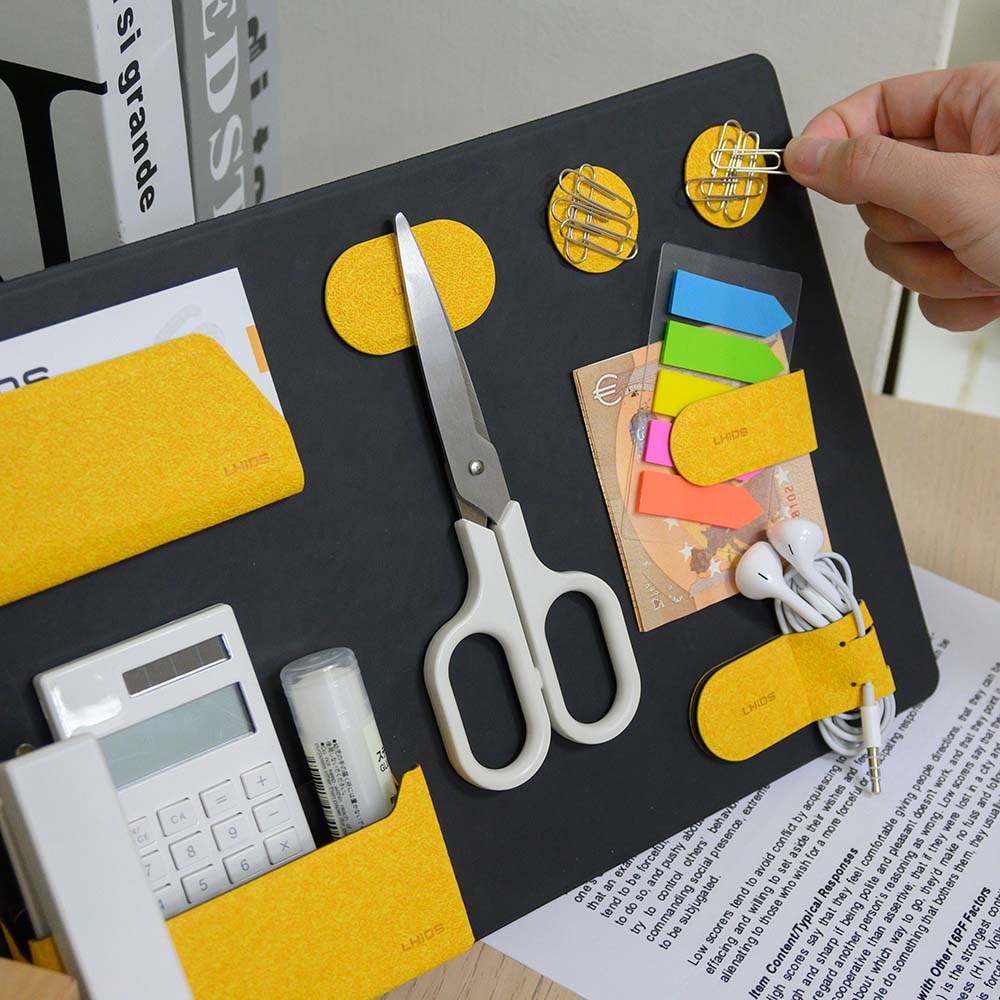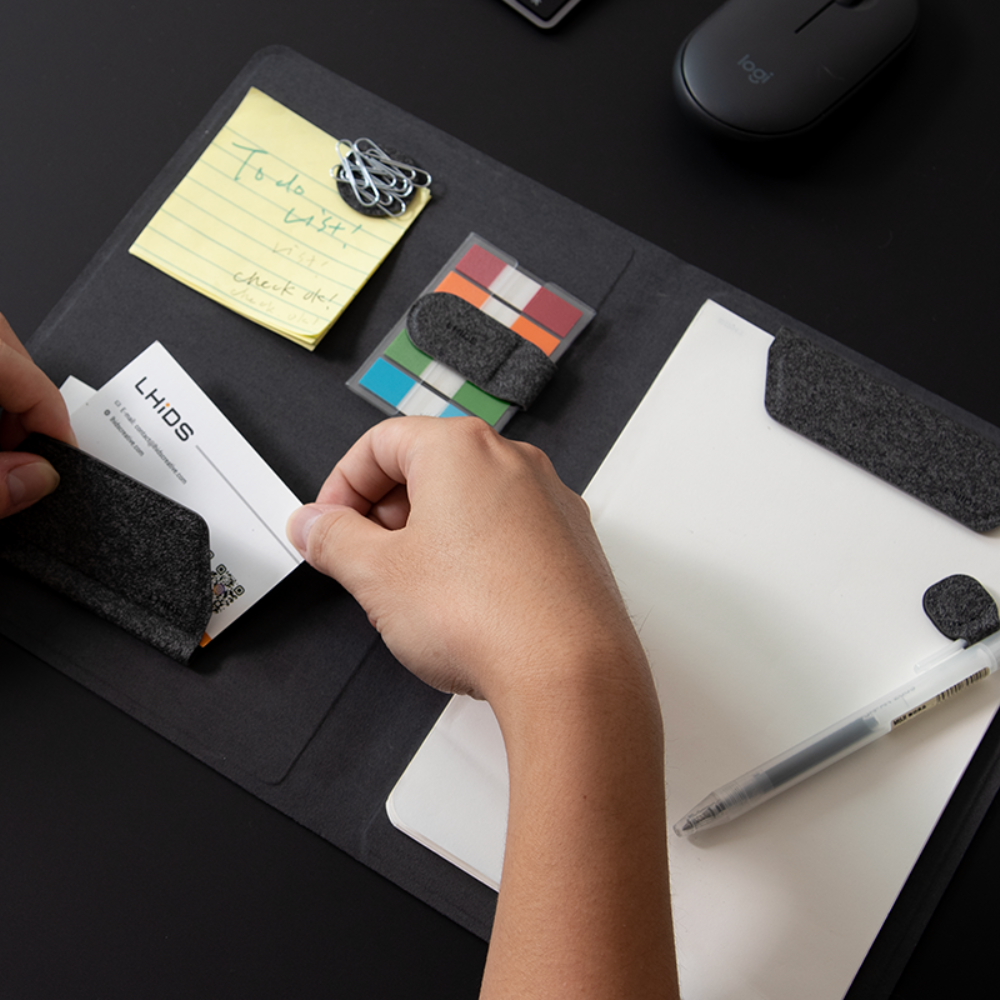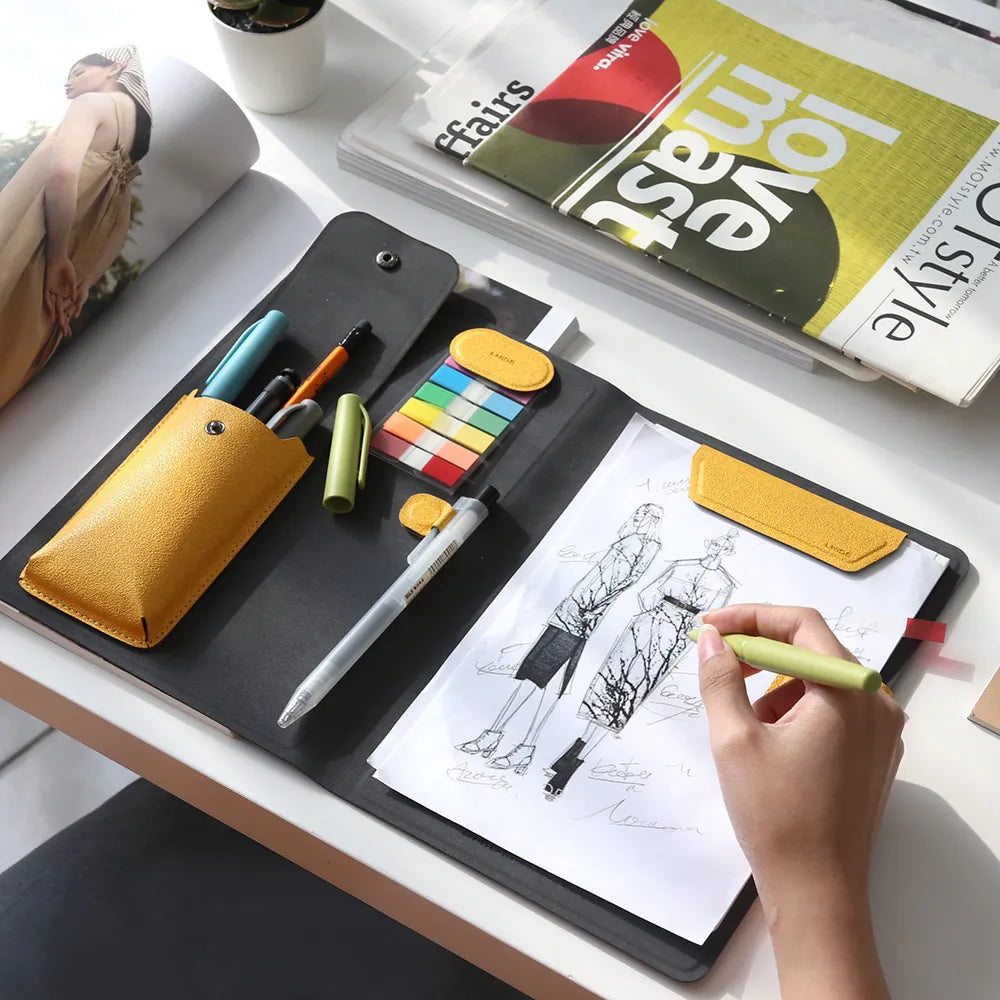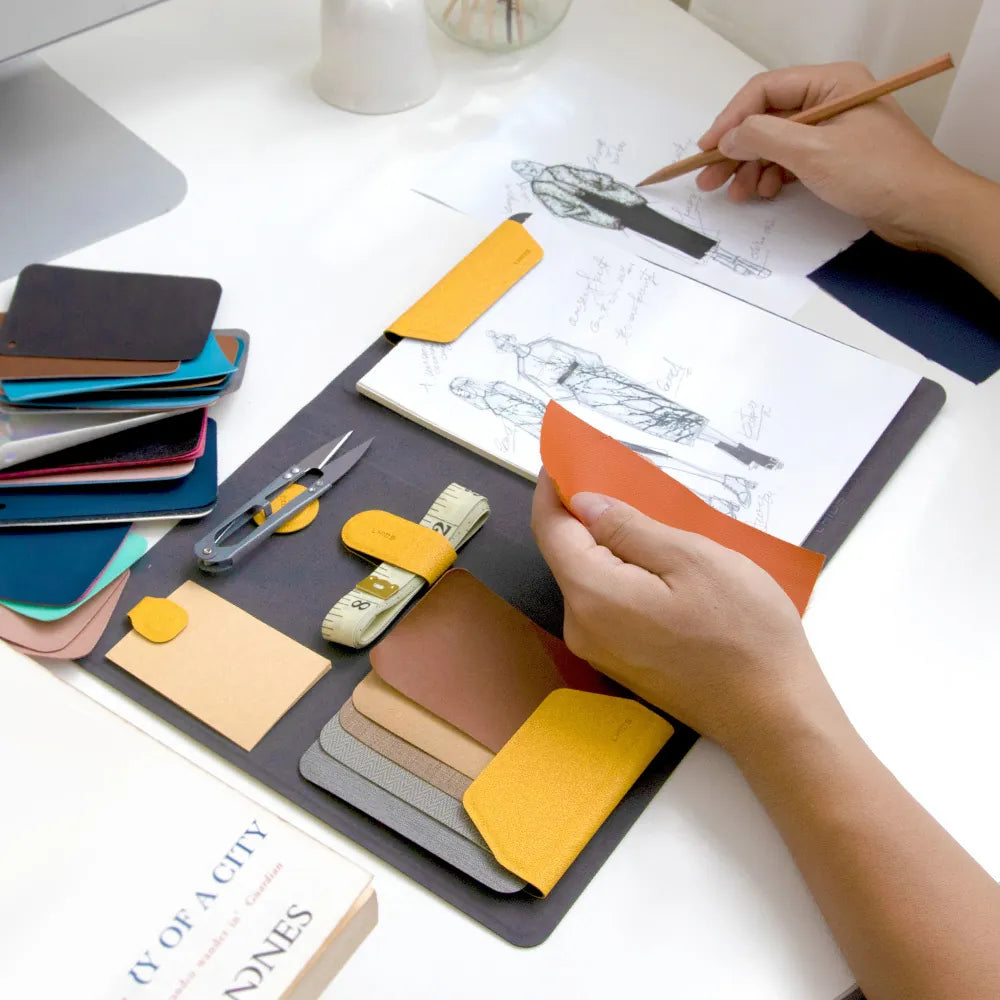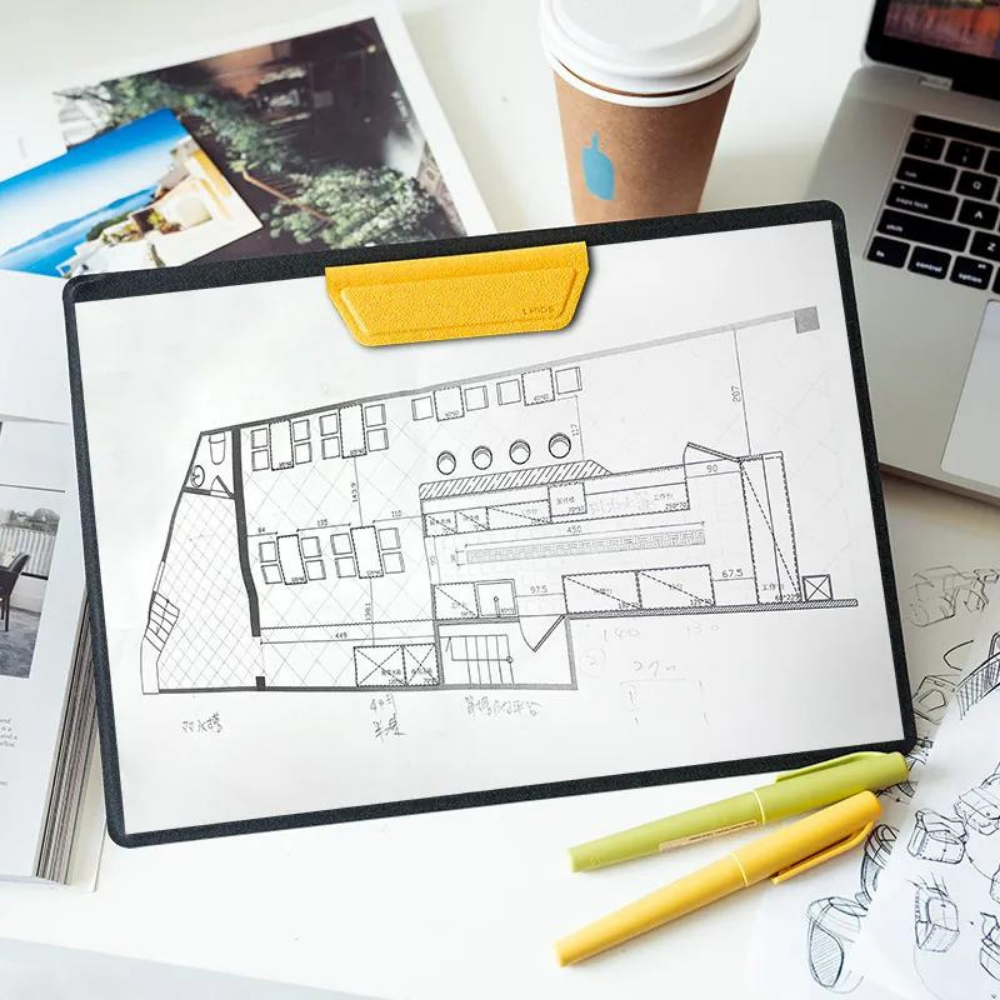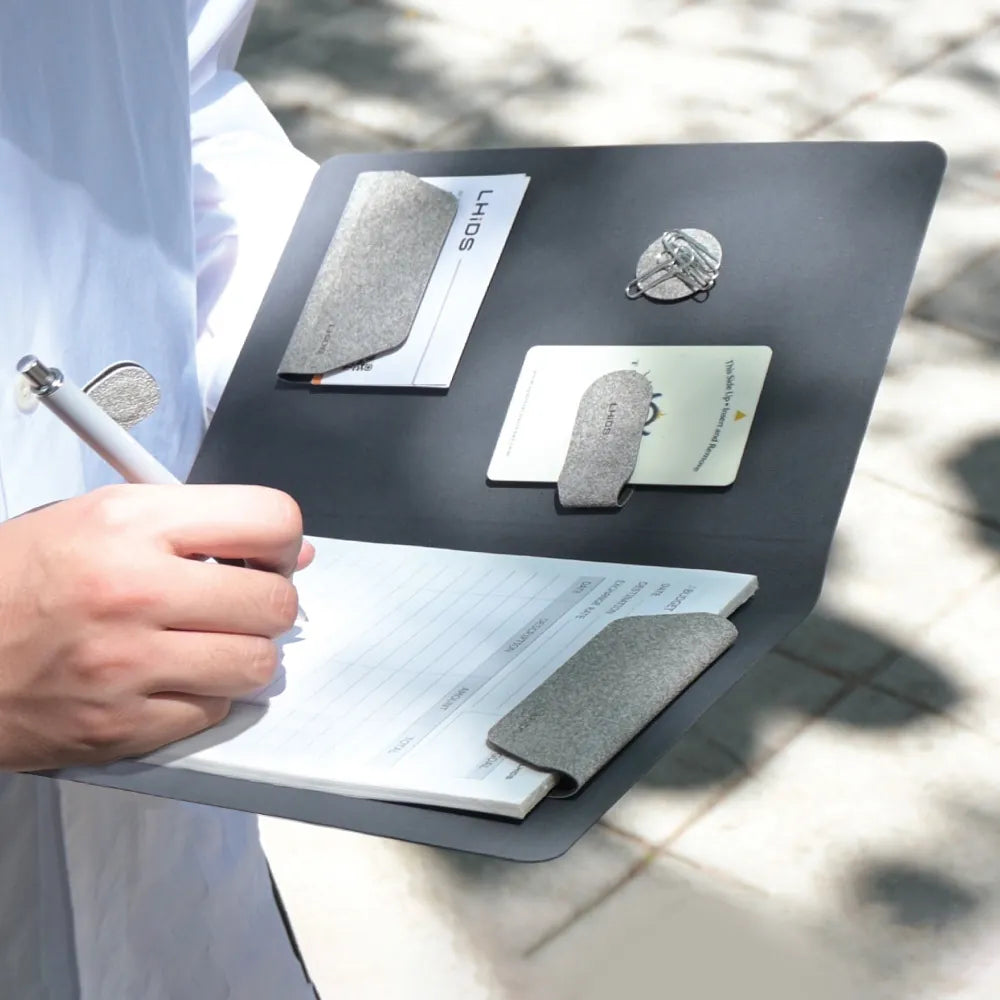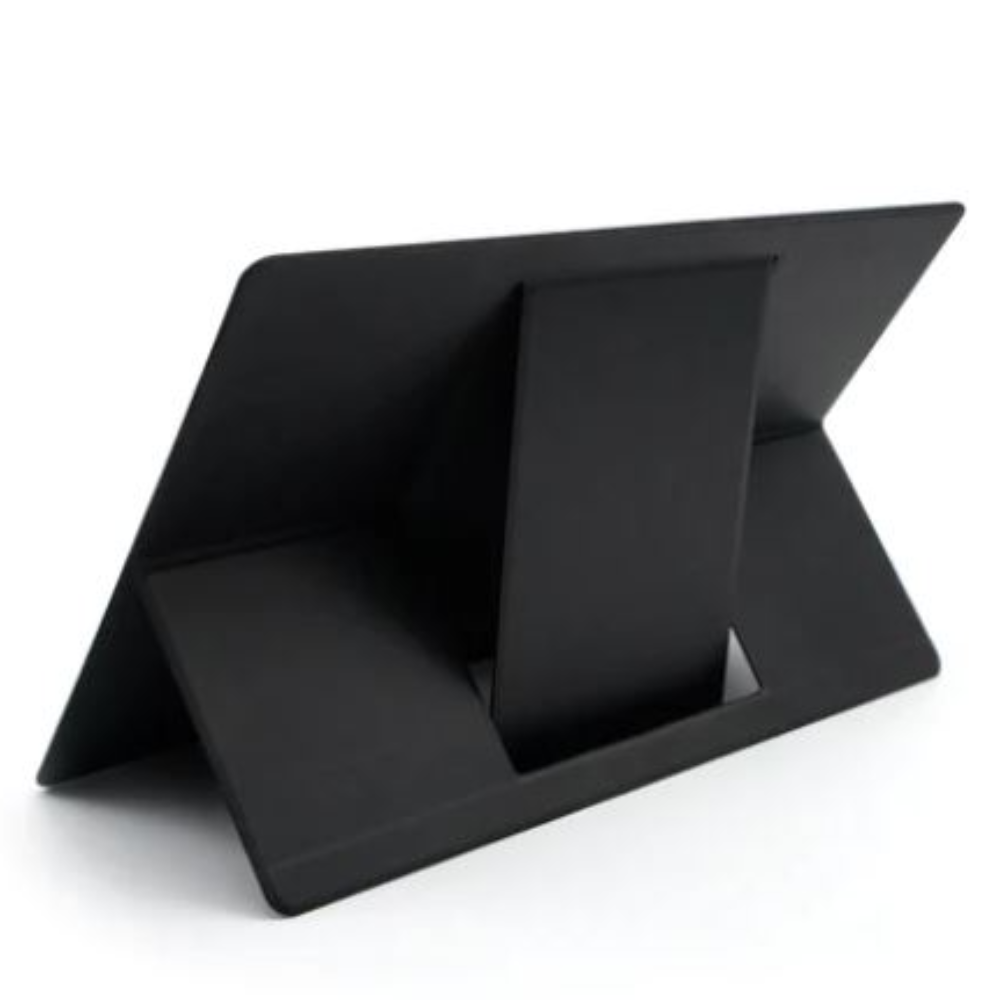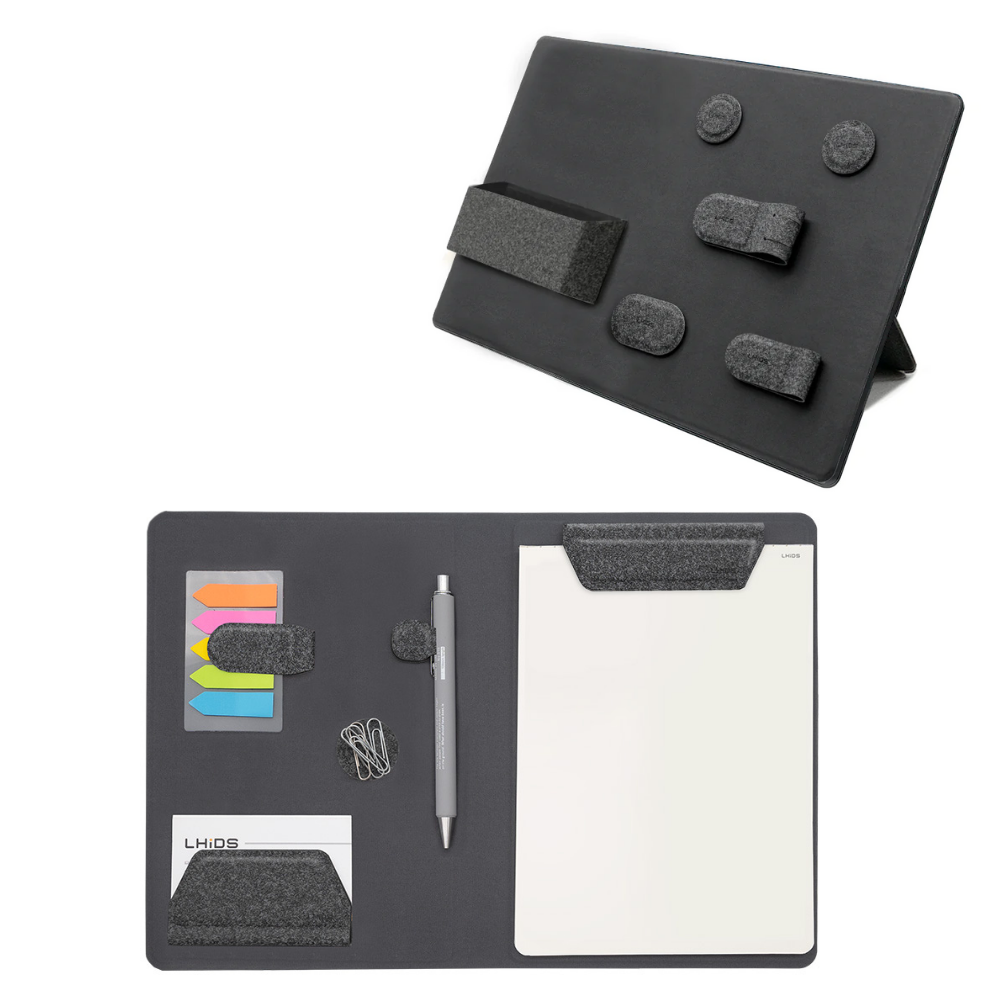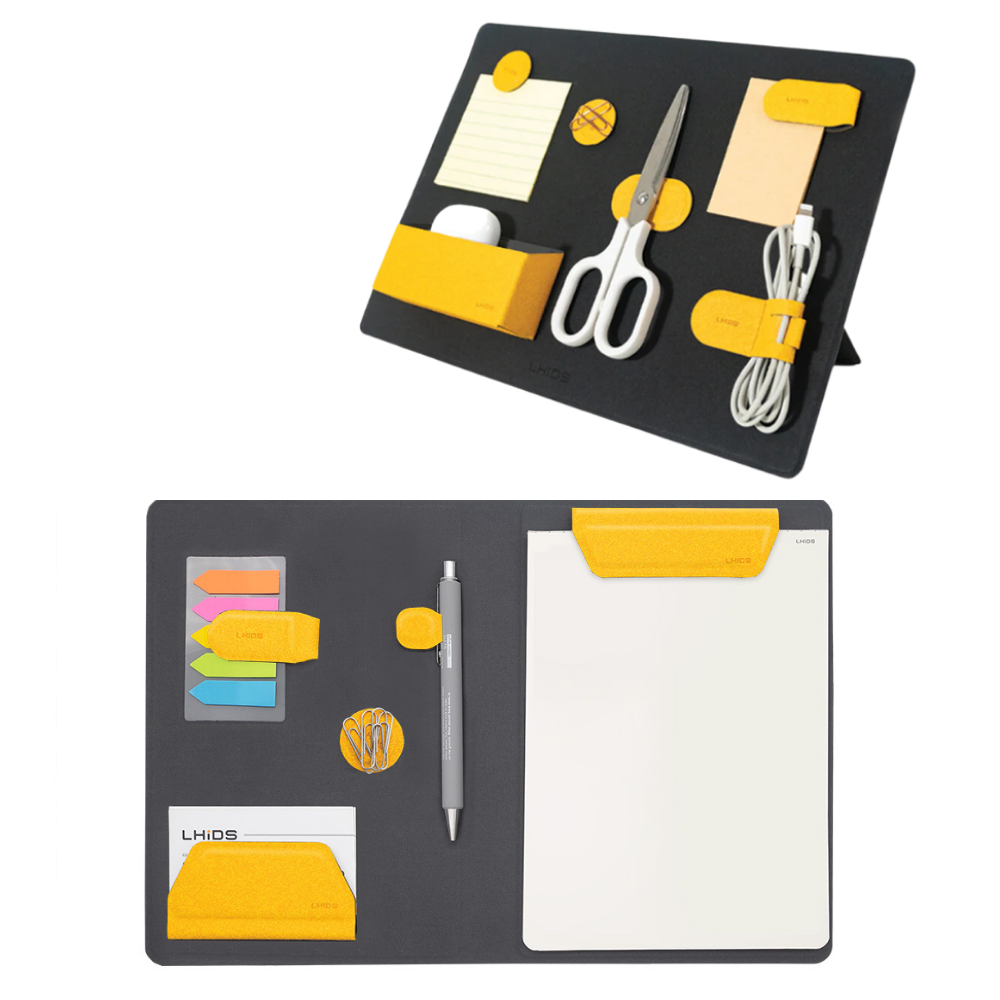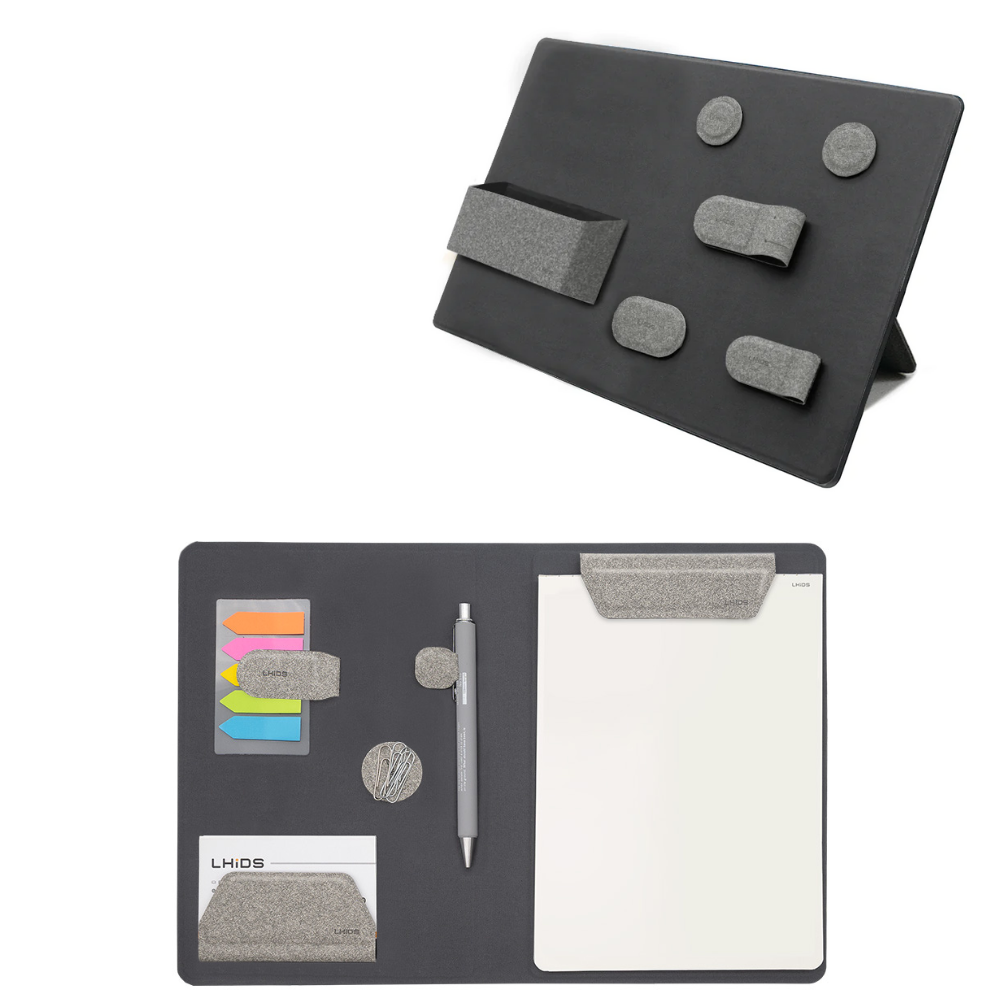 MagEasy Organizer Board & A5 Folio Lite Combo (Yellow, Black, Grey)
$ 81.88
Regular price
$ 95.98
Subscription • Save
Scroll down for more details.
Description
Product Spec
Shipping
Intuitive magnetic storage system
Maximize vertical storage space
Portable, foldable and customizable
Unlimited custom set-up options with LHiDS modular accessories
Free paper template
Combo Includes:
A5 Folio Lite (includes 5 magnetic accessories) MagTags, Universal Organizer Clip - Small, Paper Holder, Card holder, Circle Magnet, Paper Template
Organizer Board (includes 6 magnetic accessories): Universal Organizer (small x 1; large x 1), Dot Clip (Round x 2; Oval x 1), Foldable Box
Size of the A5 Folio Lite: Fold: 9.37" x 6.69" (238 x 170 mm) Flat: 9.37" x 13.46" (238 x 342 mm)
Weight of the A5 Folio Lite: 8.81 oz ± 0.35(with accessories), 5.82 oz (without accessories)
Thickness of the A5 Folio Lite : 0.11" inch (3mm)
Size of the Organizer Board: 8.07" x 11.81" (fold) Smaller than MacBook Pro 13"
Weight of the Organizer Board: 16.6 oz
Shipping Cost: US$10-15 per order. We offer FREE SHIPPING service for the order over US$55.
Shipping Email Notice: We will send you an email with the tracking number once your order has been shipped.
Global Standard Shipping: 10-14 business day delivery. Due to Covid and limited flight, it may takes longer in some countries.
Express Shipping: Some countries ex. Canada, Middle East, Southeast Asia and Latin America might take up longer due to coronavirus. We will ship via courier if you choose Express Shipping method($25-35).
Tax and Duties: We don't charge any tax. As for the import duties, it may be incurred in some countries, and the buyer or recipient of the shipment is responsible for the taxes and duties. If in doubt, please check with your country's customs office prior to ordering.
Your Workspace Organizer & Productivity Booster
The MagEasy Organizer Board & A5 Folio Lite Combo is the ultimate organizing solution. Boost your productivity by keeping everything in place instead of scattered around. Turn any desktop into a personalized and cozy workspace, so you can easily stay organized and focused.
Design Your Own Organizing Style
The magnetic magic of MagEasy allows you to seamlessly swap the magnetic modules between the board and folio. Designed with portability to easily relocate the workplace whether you are working from home or at the office.
Explore More Creative Usage Scenarios
Designed with strong embedded magnets, allowing you to snap the board anywhere with a magnetic surface and keep everything organized!
Fold It Up Like a Paper
The ultra-slim design can be stored flat on the desk or a bookshelf at will, taking up practically no space at all. The ergonomic board can prop up to 60°. A perfect viewing angle at a comfortable sight and height.
Writing Pad Tailored for Office Workers
The Folio securely holds your daily essentials such as keys, pens, headphones, and phones in place while you are on the move, so you will always have what you need at hand wherever the road takes you.
Firmly Hold Without Falling
Simplify your out-the-door routine and decrease the chances of losing items by taking just the necessary items and holding them securely in a closed book.
Good Value for Organization and Storage
A5 Folio Lite contains 6 magnetic accessories to practically meet your evolving demand from the home to the office. Modular accessories are carefully selected to better organize and hold your essential items securely within the folio.
Lighter, Effortless to Carry Without Burden
Fits easily in any handbag or backpack and is convenient to carry on the go. Your frequently used items are always within reach at your fingertips when you travel or move from place to place.